Palm Beach in Singkawang City, West Kalimantan Province
---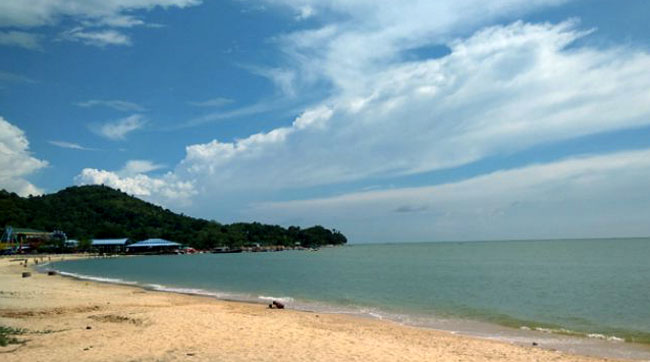 Some passionate travelers perhaps have an interest in visiting Singkawang City someday. It is because they have recognized the tourism potential of the region and heard good things about it. Well, it is true. Singkawang never disappoints visitors especially when it comes to natural attractions. Let's take an example. There is Palm Beach, which is one of the best shores there. The location is in Sedau Village and it resides in South Singkawang Sub-District. Not only it is beautiful, but the beach also has a strategic location (which resides near to other famous beaches) especially Pasir Panjang Beach.
The Nuance
For the information, Palm Beach has become an official tourist site in Singkawang City. No wonder, visitors need to pay an entrance fee in order to enjoy a vacation on the site. Have no worries. It is worth the money. The first impressive allure is the light yellow shoreline with its soft texture. What is more? The beach also comes with small waves, so everyone is allowed to swim in the sea. As for the features, some big rocks scatter by the shore on where tourists can sit and enjoy photography. Another facility is a formation of gazebos that tourists can use either for relaxation or keep their belongings.
Exploring Palm Beach
Beach walking is the most recommended thing that tourists must do in Palm Beach. Thanks to the soft texture and exotic-colored sand. Everyone can walk on the shoreline either with or without footwear. One thing, this must be done either in the morning or afternoon. The purpose is to avoid the heat of the sun. Aside from beach walking, tourists can take advantage of the shoreline to play sand and build a sand castle! These would become a nice family activity, so make sure to come with your family members.
What is next? Swimming is also popular there. It is because Palm Beach doesn't feature big waves, so people can swim in the sea safely and comfortably. Even kids are allowed to get in the water as long as they use a water tube and get the supervision from their parents. Here is the tip. They should enjoy swimming during the low tide since it is safer and more comfortable.
The next impressive allure in Palm Beach is the complete facility that tourists can use. Located near to the site, tourists may find hotels, a swimming pool, camping ground, eateries, and even kids' playground! Thus, everyone should take advantage of those facilities to maximize their fun when exploring the beach. Do not forget to carry extra cash to pay for those facilities, though.
Nearby Attractions

Batu Burung Beach
Simping Island
Tanjung Bajau Beach
Rindu Alam Park
Sinka Island Park
How to Get There
The distance between Pontianak City and Palm Beach is 142 km. That means the trip may take approximately 2 hours and 50 minutes to get to the location. As for the best route to take, it is none other than Ahmad Yani Street. The first destination is definitely Singkawang City. Next, tourists should get to South Singkawang Sub-District and reach Sedau Village where the beach is located.
Where to Stay

Dayang Resort
Palapa Hotel

Latest News
Indonesia is a country of Bhinneka Tunggal Ika, where there are many provinces inhabited by various ethnic groups. Not only the culture and cuisine are different, the traditional house designs of each province are also different. Traditional house designs have their own philosophy and function. It's no wonder that none of the designs are exactly the same, including the West Kalimantan traditional house belonging to the Dayak tribe named Rumah Radakng. Radakng's house is often also referred to as a long house. This term really describes the state of a…
---
Temajuk marks the point where Indonesia ends and Malaysia starts. Not yet known to many domestic and international travellers, Temajuk Village features a tidal beach with soft, white sands dotted with granite rocks. Underwater sightseeing is made possible as the water is clear. Temajuk beach, actually running at a very long 60 km of coastline, is a tidal coast area featuring soft, white sand and preserved environment. One thing that differs this beach from Balinese beaches is portruding granite rocks distributed evenly throughout the coastal environment. In places, granite rocks…
---
Sinka Island Park Singkawang is a small town in the west Kalimantan, but there are many interesting tourism inside the town. One of popular destinations in Singkawang is Sinka Island Park; there is a zoo which has many kind of animals and a recreational park family vacation and playground for children. Sinka Island Park is located in " kelurahan sedau", " kecamatan Singkawang selatan", around 9 km from Singkawang center. To reach this park, from Singkawang center you can go to there by bus, motorcycle, and our personal vehicle. In…
---
Pontianak Pontianak is officially the capital city of West Kalimantan province, the ethnic of Tionghoa call this city as Khun tien. This city is famous as the City of Equatorial for it passed by the earth zero degrees latitude. The name of Pontianak was belived had something to do with the folk tale about Syarif Abdurrahman which was haunted by the ghost of Kuntilanak when he walked along the 1.1 megameter Kapuas River, which is the longest river in Indonesia. Abdurahman Sharif had fired the cannon to drive away the…
---