Setapuk Mangroves Forest in Singkawang City, West Kalimantan Province
---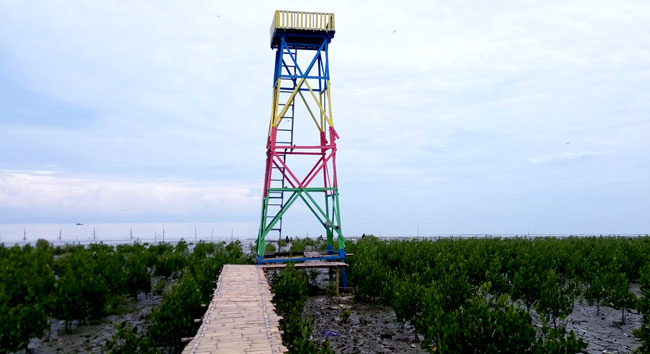 There is one of a kind vacation destination in Singkawang City, which is called Setapuk Mangroves Forest. As the name suggests, the location is in Setapuk Besar Village and it belongs to North Singkawang Sub-District. The locals even call it the hidden tourist site of West Kalimantan Province in Indonesia! This site was built by Kelompok Peduli Mangrove Surya Perdana Mandiri and has the prime function to prevent abrasion and other sea-related issues. However, these days, tourists are also interested in visiting the site to enjoy the nuance and explore the forest during holidays. No wonder, it turns into a new vacation spot that everyone can visit when coming to Singkawang City.
The Nuance
As people may expect, they may see thousands of mangroves once arriving at the site. Those plants have been growing well since 2009, after all. Aside from these trees, tourists can also find some outbound facilities built by the management. That means visitors can use those facilities during the visit! This explains why Setapuk Mangroves Forest is also suitable for a family recreation and outdoor activities. The peaceful nuance even helps all visitors to relax and eradicate stresses.
Exploring Setapuk Mangroves Forest
Watching the lush mangroves indeed becomes the most common activity that tourists might do in Setapuk Mangroves Forest. Many other fun things can be done on the site, though. For instance, it is the forest exploration. Visitors are allowed to get around the site and collect some photos, as well. In fact, several villagers have been visiting the forest to perform a research! What is more? The forest is also suitable to conduct camping! Moreover, tourists can choose any spot and build the tent there.
According to the locals, some travelers often come to Setapuk Mangroves Forest to enjoy fishing. This explains why fishing becomes more popular these days, especially among villagers. One thing, there are not many good spots to fish so visitors must find a good time to come to the site. Otherwise, they won't get any place for fishing. Another consideration is related to the equipment. Everyone should carry their own fishing rod as no facilities are available to rent one.
The next fun thing to do in Setapuk Mangroves Forest is to rent a speedboat and get around the location comfortably. Have no worries. It doesn't cost much. After that, tourists should climb the sightseeing tower and watch the panorama from up there. The height of the tower is about 9 meters and it accommodates up to 5 people. Despite the fact, it is safe to climb on.
Nearby Attractions

Tanjung Serumpun
Pajintan Reservoir
How to Get There
For those coming from Pontianak City, they can use any type of transportation and head to Setapuk Mangroves Forest right away. The distance is 163 km, so the trip may take around 3 hours and 6 minutes. Have no worries. It can be faster if they take Ahmad Yani Street. The first destination is North Singkawang Sub-Disrict. Lastly, everyone only need to reach Setapuk Besar Village where the forest is located.
Where to Stay

Kahyangan Resort
Astina Graha Guesthouse
Rainbow Hotel

Latest News
Indonesia is a country of Bhinneka Tunggal Ika, where there are many provinces inhabited by various ethnic groups. Not only the culture and cuisine are different, the traditional house designs of each province are also different. Traditional house designs have their own philosophy and function. It's no wonder that none of the designs are exactly the same, including the West Kalimantan traditional house belonging to the Dayak tribe named Rumah Radakng. Radakng's house is often also referred to as a long house. This term really describes the state of a…
---
Temajuk marks the point where Indonesia ends and Malaysia starts. Not yet known to many domestic and international travellers, Temajuk Village features a tidal beach with soft, white sands dotted with granite rocks. Underwater sightseeing is made possible as the water is clear. Temajuk beach, actually running at a very long 60 km of coastline, is a tidal coast area featuring soft, white sand and preserved environment. One thing that differs this beach from Balinese beaches is portruding granite rocks distributed evenly throughout the coastal environment. In places, granite rocks…
---
Sinka Island Park Singkawang is a small town in the west Kalimantan, but there are many interesting tourism inside the town. One of popular destinations in Singkawang is Sinka Island Park; there is a zoo which has many kind of animals and a recreational park family vacation and playground for children. Sinka Island Park is located in " kelurahan sedau", " kecamatan Singkawang selatan", around 9 km from Singkawang center. To reach this park, from Singkawang center you can go to there by bus, motorcycle, and our personal vehicle. In…
---
Pontianak Pontianak is officially the capital city of West Kalimantan province, the ethnic of Tionghoa call this city as Khun tien. This city is famous as the City of Equatorial for it passed by the earth zero degrees latitude. The name of Pontianak was belived had something to do with the folk tale about Syarif Abdurrahman which was haunted by the ghost of Kuntilanak when he walked along the 1.1 megameter Kapuas River, which is the longest river in Indonesia. Abdurahman Sharif had fired the cannon to drive away the…
---